TOSTABAR GENIUS K1
The ideal roaster for your Coffee Shop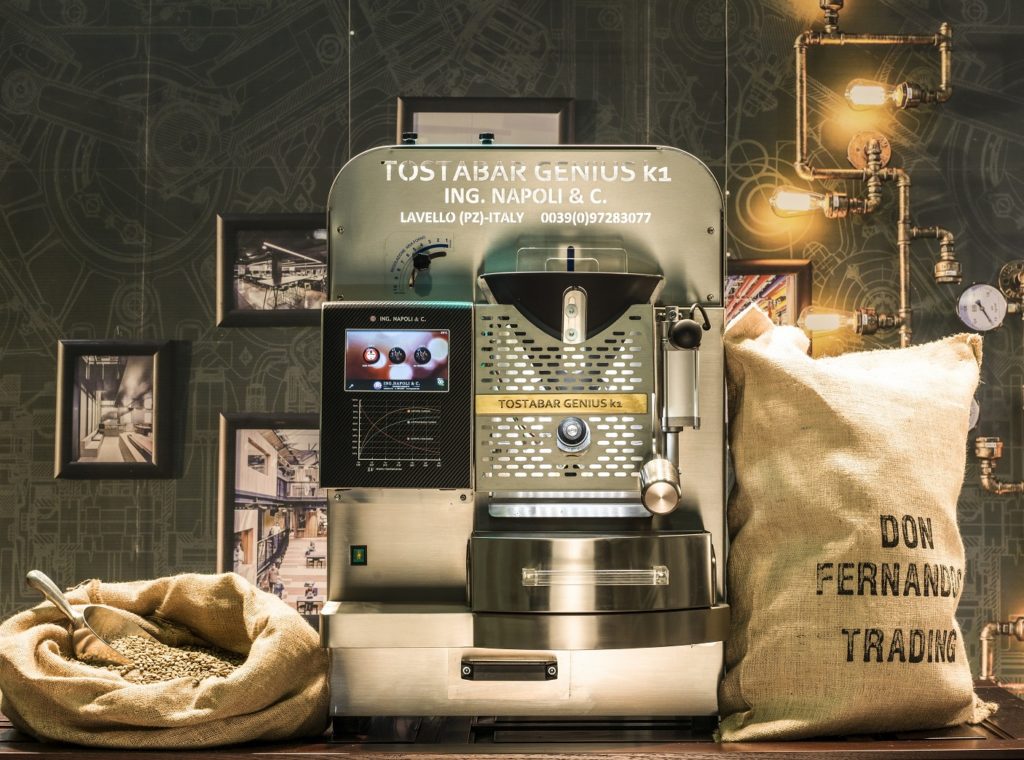 Tostabar Genius k1 is the only shop roaster in the world able to achieve perfect, fully automatic and constant coffee roasting and it does not require the presence of an operator during the process. All this with minimal energy use.
Genius K1 is powered by electricity, needs only 3.5 Kw and does not use GAS.
PERFECT
Genius k1 is the toaster equipped with a patented electronic control, the reduction of thermal inertia®, which self-regulates the amount of heat needed to roast the coffee following a perfect and constant cooking profile.
CONSTANT
Tostabar K1 is the most reliable shop roaster. It can work continuously even 24 hours a day. At the end of a toasting, another cooking cycle can be started immediately without the need for any interval.
AUTOMATIC
Tostabar Genius k1 is completely automatic: the roasted coffee is discharged and cooled at the end of the cycle without the need for operator intervention. The films that cover the beans are automatically collected in a special drawer.
All these features make Tostabar Genius K1, unequivocally, the ideal bar counter toaster.
Technical specifications
• Roasting capacity: 800-1400gr per cycle
• Roasting cycle duration: 12-20 minutes
• Film collection drawer
• Temperature sensor
• Touch Screen panel to set up and create different roasting profiles
• Power: 3.5 Kw 220V
• Power supply: Electricity (No GAS)
• Dimensions:
– Width: 62cm
– Depth: 72 cm
– Height: 99cm
– Weight: 110 Kg
PRO Version
Do you want to make your artisan roasting?
Making your artisan roasting has never been easier. Find out how now!
We chose to roast by hand because it was our project for years.A dream we wanted to achieve. Now we feel complete in the coffee cooking sector and this is important for two coffeelovers like us.
My cousin and I are the first and second chef of our product. In practice for us the cafeteria is like the kitchen of a restaurant where the first chef is the roaster and the second is the bartender.Thanks to Tostabar who revolutionized the way we prepare coffee.
I can guarantee that the differences that I have noticed in my business, since I use Tostabar, are many.
Among all, the doubling of the sale of coffee stands out and in the end this is what a coffee shop wants.
I would recommend Tostabar Genius K1 to anyone who wants to serve an espresso in a cup that makes the difference. It is highly recommended for all professionals in the sector, passionate about coffee and the world of roasting, to ensure that the extraction of a simple drink becomes a unique experience.