TOSTABAR GENIUS K3
The ideal shop roaster for medium-large productions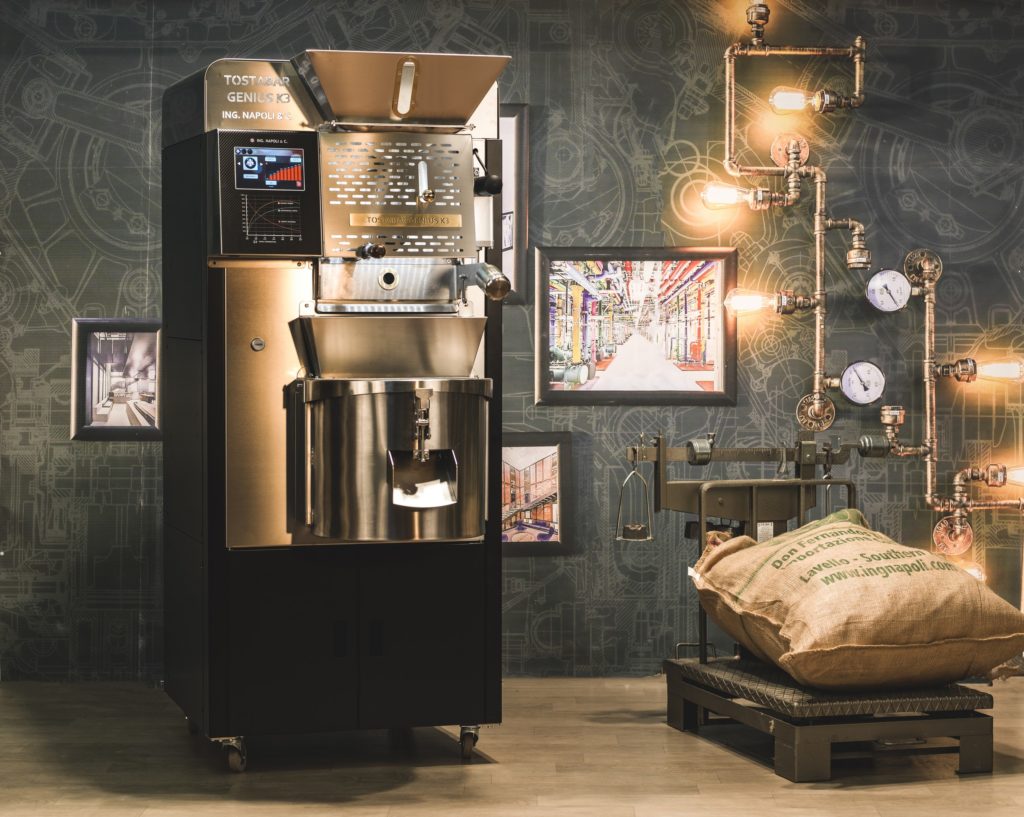 Tostabar Genius K3 represents the ideal production tool for large coffee shops and small chains and combines all the advantages of compactness, automation and electronic control with the large toasting capacity of 4 kg per cycle.
SAFETY
Thanks to the technology used and the highly efficient insulation, Genius K3 also works with a rational use of electricity and without the use of gas, eliminating the risks of fire that may result.
COMPACT
Tostabar K3 combines technology and design; so Its vertical development allows it to be inserted in small spaces and used in an ergonomic way.
The presence of stainless steel along a large part of the machine body is the strongly characterizing element: a solid and robust machine.
AUTOMATIC
Genius K3 is fully automatic: the coffee is roasted automatically following a roasting profile previously set without requiring the presence of an operator next to the machine.
As a result, at the end of each cycle, the roasted coffee is discharged into the special motorized tank, inside which the coffee is cooled and made available for storage within a few minutes.
Technical specifications
• Roasting capacity: 1.8-4.5Kg per cycle
• Roasting cycle duration: 12-20 minutes
• Film collection drawer
• Motorized cooling tank
• Temperature sensor
• Touch Screen panel to set up and create different roasting profiles
• Power: 12 Kw 380V
• Power supply: Electricity (No GAS)
• Dimensions:
– Width: 70cm
– Depth: 103cm (including cooling tank)
– Height: 165cm
– Weight: 200 Kg
PRO Version
Do you want to make your artisan roasting?
Making your artisan roasting has never been easier. Find out how now!
After purchasing the Tostabar Genius, a truly professional world opened up to me. At the beginning there is a bit of fear in making your own personalized blends, you think it is complicated, and instead you immediately understand that it is all an advantage: I was able to increase my coffee sales from 4 to 7 kg per day!
For those in the coffee shop sector, for every barista and not only, using Tostabar Genius and creating your own coffee is a unique opportunity, a train not to be missed. I can only say thanks to the professionalism of Eng. Naples and its staff would choose the Tostabar a thousand times for my artisan roasting.
I am very satisfied with the assistance service of Ing. Napoli & C. Over the years they have been able to solve all my problems and resolve all my doubts.
Surely this is one of the reasons why I would choose them again and recommend them to those like me who want to create their own artisan coffee.